Home
Talk

8
52pages on
this wiki
Welcome
Welcome to the Working!! Wiki
Your guide on Everything About Working !! and Wagnaria !! World.
This wiki is dedicated to the creator, Karino Takatsu.
52 articles since May 2010
Working !!, also known as Wagnaria !!, is a Japanese four-panel comic strip manga series written and illustrated by Karino Takatsu, and concerns the activities of the unusual employees at the Wagnaria family restaurant. It began serialization in the January 2005 issue of Square Enix's Young Gangan seinen manga magazine. The first bound volume was released in November 2005 in Japan; as of March 2011, nine volumes have been released. Square Enix released three drama CDs between 2007 and 2009 with scripts written by Shōgo Mukai. A 13-episode anime series produced by A-1 Pictures and directed by Yoshimasa Hiraike aired in Japan between April and June 2010, and a second season began airing in October 2011.
Plot
Popura Taneshima, a small, high-school student, was assigned to find a new part-timer for the restaurant she works at, Wagnaria. After days of searching, Taneshima became desperate and started begging people on the streets. That's when she ran into Souta Takanashi, a high-school student who was walking home from school. Taneshima offered him a job and he gladly accepted because Taneshima was so "small and cute" that he couldn't turn her down.

The main character then switched from Taneshima, to Takanashi. The story follows Takanashi's adventures and work life while working at Wagnaria with his senpai,Taneshima, the manager, Kyouko Shirafuji, the chefs, Satou and Souma, the cheif, Yachiyo, and the high-school student with androphobia, Inami. As Takanashi works as a waiter, he develops unique relationships with all of the employees, and they learn to somehow keep the restaurant running properly with the clash of so many different personalities.
Featured Manga Chapter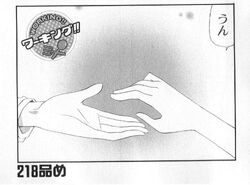 Chapter 218
Spoiler alert!
---
Upon reaching his final try, Satou finally confessed what he really feels to Yachiyo.

Satou was able to "pull" out from the cold storage (by holding her hand). After some talking, Satou brought up the topic of Remembering the person whom Satou likes (Satou was able to came up a lie that he loves the ghost that follow's Yachiyo's back), and said that there was no ghost at all, suddenly hugging Yachiyo, proposing she should stay with him forever. Yachiyo happily agreed, as they are both officially boyfriends and girlfriends.

<There is no translation for this chapter>
Featured Manga Chapter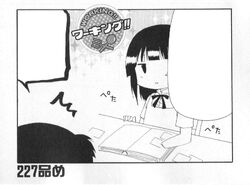 Chapter 227
Spoiler alert!
---
Yamada is making a scrapbook, that contains everyone in the Restaurant. On the other hand, Yachiyo's relationship with Satou is intensifying. Both being so embarassed, they aren't able to face each other, thus, uses Popura as their "Communicator Device"

<The given summary is just a wild guess since it was only based on the illustration being shown (does not know Japanese words). If there was a mistake, sorry for the trouble>

<There is no translation for this chapter>
Recent Anime Episode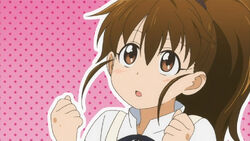 Working'!! Episode 14
Spoiler alert!
---
Working!! Anime Episodes Are Under Construction. Please Wait For Awhile.
Featured Picture
---
The Appearance of Takanashi's Mother!!
Featured Quote
"OLD HAG !"
-Souta Takanashi to Kyouko Shirafuji, in Episode 1.
Did you know ?
.... that Kirio Yamada is really the brother of Aoi Yamada ! In fact that her mother appeared !
.... that Jun Satou's hair is actually black ?!
.... that Maya Matsumoto and Kirio Yamada did already met ?!
.... that Hiroomi Souma said his middle school past !? (So as Jun Satou's and Maya Matsumoto's !)
.... that Jun Satou confessed his love to Yachiyo Todoroki ?!
Results of Previous Poll~
Sorry For A Late Update!! >.<
| Position | Team | Votes |
| --- | --- | --- |
| 1 | Anime it is ! Working!! Anime is improvised~! | 105 |
| 2.5 | Manga ! Since it all started in Manga ! | 12 |
This Month's Poll !
Note: Voting is very confusing; the one will you vote is always below (the "vote" mark=the rectangle one BELOW)
There were big revelations happened last time in the Manga. What's the best among all of them?