Name

English

Eyecatch! Too Much!

Information

Band

Haruka Tomatsu, Yōko Hikasa and Sora Amamiya

Opening Number

1

Starting Episode

Opening Song Guide

Previous
← N/A
Next
→
List of Working !! Music
Eyecatch! Too Much! is the first opening of the WWW.Working!! Anime, sung by Haruka Tomatsu (Hana Miyakoshi), Yōko Hikasa (Sayuri Muranushi) and Sora Amamiya (Shiho Kamakura).
Characters in Order of Appearance
Edit
TV Version
Edit
すきっと にゃん! するっと キュン!
ばったりはったり Yay yay yay yay!

君に恋した 気にしたEye-catch
柄じゃないくせに猛サーチ
隕石落ちても 冷静仲良く
今日は案外例外

心がプルプルしたら
運命はプリントルネード
True colors are the same
翻弄されたり グッと堪えたり
扉を開けたら さぁ、行こう!

ばったりはったり、すきっと にゃん!

ハートは恋で動いてる
表面上はクールにしなくちゃ
きっと楽しんじゃう
ドキドキ 時々暴走
水面下でジタバタしなくちゃ
やっぱざわついちゃう

好きも嫌いも関係ないない
トラブル大盛りの日々割り切って
振り切って 割り切っちゃう 振り切った
信じてハッピー

一払う多くたって平気だもん!

今日も振り返ればGive Me Too Much
口にした本命はNo Touch
不意打ちの件案外冷静
例外のリズム

ふわふわな君が理想
猫一匹分近過ぎた
地球が廻るの
クラクラしてても グッとわきまえて
扉を開けたら さぁ、行こう!

スキット にゃん! スルッと キュン!
ばったりはったり Yay yay yay yay!
Suki tto nya n! suru tto kyun!
Battari hattari Yay yay yay yay!

Kimi ni koi shi ta ki ni shi ta Eye-catch
Gara ja nai kuse ni mō sāchi
Inseki ochi te mo reisei nakayoku
Kyō wa angai reigai

Kokoro ga purupuru shi tara
Unmei wa purin torunēdo
True colors are the same
Honrō sare tari gutto kotae tari
Tobira wo ake tara sā, iko u!

Battari hattari, suki tto nyan!

Hāto wa koi de ugoiteru
Hyōmen jō wa kūru ni shi naku cha
Kitto tanoshinjau
Dokidoki tokidoki bōsō
Suimen ka de jitabata shi naku cha
Yappa zawatsuichau

Suki mo kirai mo kankei nai nai
Toraburu ōmori no hibi warikitte
Furikitte warikicchau furikitta
Shinji te happī

Ichi harau ōku tatte heiki da mon!

Kyō mo furikaere ba Give Me Too Much
Kuchi ni shi ta honmei wa No Touch
Fuiuchi no ken angai reisei
Reigai no rizumu

Fuwafuwa na kimi ga risō
Neko ichi hiki bun chika sugi ta
Chikyū ga meguru no
Kurakura shite te mo gutto wakimae te
Tobira wo ake tara sā, iko u!

Sukitto nyan! surutto kyun!
Battari hattari Yay yay yay yay!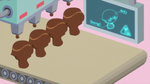 On the first episode, Miyakoshi's diagram on the display screen was misspelled as "Storng" instead of "Strong". This is corrected in later episode.
Ad blocker interference detected!
Wikia is a free-to-use site that makes money from advertising. We have a modified experience for viewers using ad blockers

Wikia is not accessible if you've made further modifications. Remove the custom ad blocker rule(s) and the page will load as expected.