Kotori-chan Appears
Kanji

ことりちゃん登場!!

Romanji

Kotori-chan Tōjō!!

Other

Enter Kotori-chan
Kotori-chan Tōjō!!
ことりちゃん登場!!

Information

Air Date

May 29, 2010

Episode

9

Opening Song
Ending Song

Episode Guide

Previous
← Episode 8
Next
Episode 10 →
List of Working !! Episodes
 Takanashi, Work is the 9th Episode of the Working!! anime. It is first aired on May 29, 2010.
Inami's father heard from her mother that she received a gift on White Day from a boy, but Inami tried to hide this by saying she received the gift from a girl. Inami's father is coming to Wagnaria to confirm whether this is true, so Inami asks Sōta to cross-dress for the day to fool her father. While he initially vehemently refuses, the other employees get him to chance his mind and he goes along with it, going under the identity of Kotori.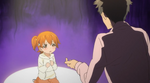 When Inami's father finally arrives, Sōta starts a conversation with him, and finds out that he actually indoctrinated Inami over a period of ten years using films, TV and books to make her fear men, as well as placing a weight in her bag to make her muscles stronger. Aoi, Popura, and Inami are overhearing their conversation with a radio and concealed microhone in the Kotori uniform. Sōta angrily lectures him about his parentage and tells him to go home and later apologize to his daughter. Inami realizes she is in love with Sōta after watching this performance.
Adapted From
Edit
Referbacks
Edit
references to previous episodes
The first commercial break image was Kotori's accessories.
The ending song for this episode is different, it's Golden Day.
New Characters
Edit
Unanswered Questions
Edit
!) Will Inami's father apologize to her?
Yes, in next episode her daddy sent her an apologize message.
Your daughter is not your possesion toy