Oh, My Little Sister! is the 8th Episode of the Working'!! anime. It is first aired on November 19, 2011.
Souta becomes depressed when he discovers Nazuna has grown as tall as him. So he persuades Popura to act like his little sister for the day. Inami becomes jealous of this and asked Souma to try and get Souta to call her cute.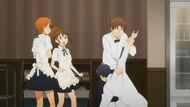 The next day, Kirio comes to Wagnaria to look for his sister, but finds himself coming into conflict with the men staff. At the other hand, Souma attempts to keep him and Aoi from meeting each other by going to mall.